This morning I received the cutest package from a company called Friction Free Shaving and I'm already sold on the brand. Inside my box I was gifted all the items to ensure I have gorgeously silky soft legs and everything you could possibly need to do this was included in my very generous parcel.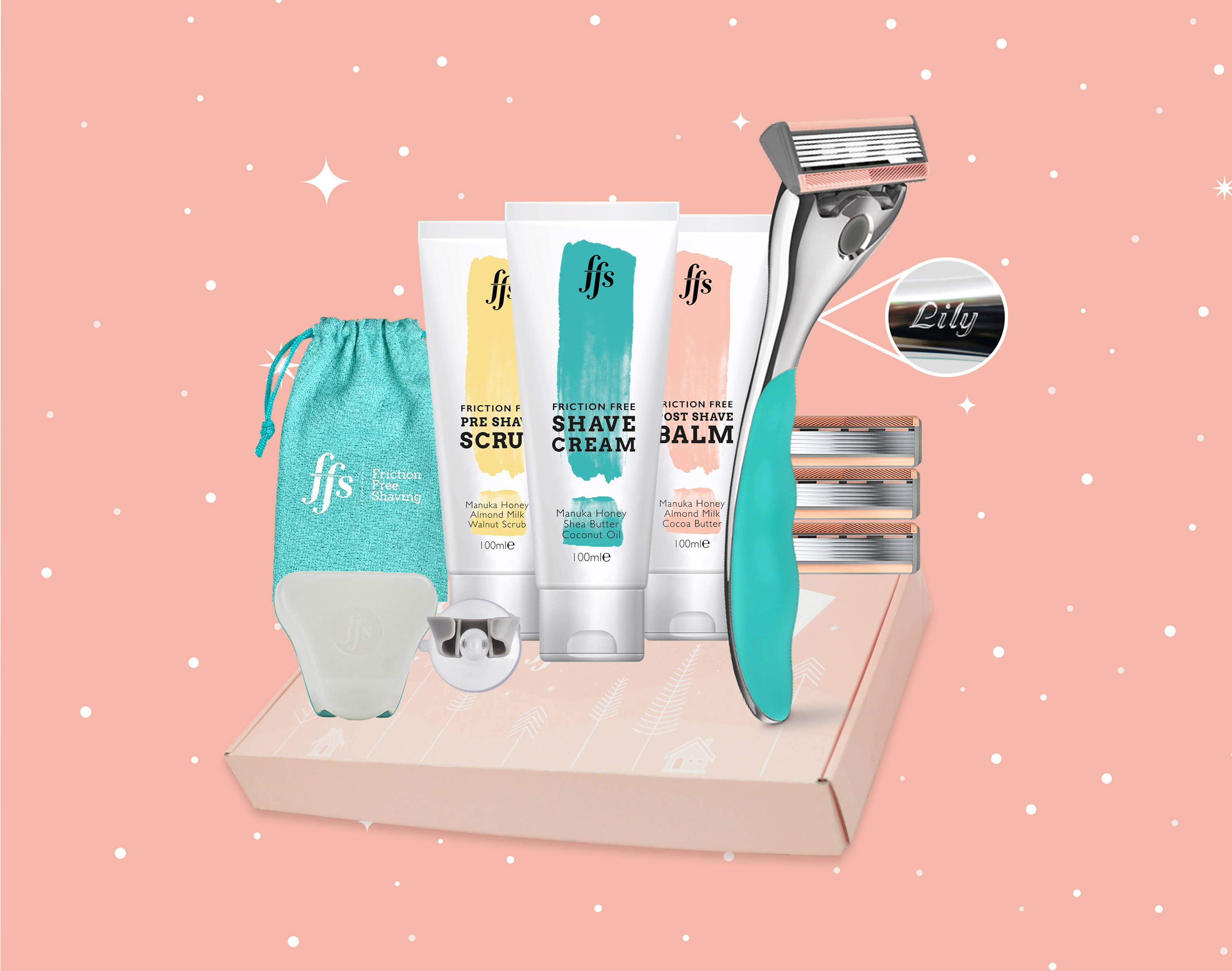 Inside the package:
Shower hook. This brands attention to detail is amazing – they've included a shower hook so that you can hang your razor on the wall in the bathroom if you wanted to.
Little travel pouch. They've included a cute little travel pouch to pop your razor in for when you go traveling.
4 Razor blades. One blade for each week for four weeks – it's actually recommended that you frequently change your razor blade, most advise changing your blade once per week to ensure that you avoid bacteria build up – ew! Even if you rinse your blade often it can become blunt the more times you use it plus it can contribute to shaving rashes and we do not want either of those!
An engraved handle. At first I found this idea really strange but now it makes so much more sense. Obviously I'm used to chucking away my handles (guilty) because they are plastic however these are made to be used for longer as they are metal! Also the engraving is a brilliant idea because if you have one for everyone in your family you'll never be sure which one is which so this way you'll be clear on who's who's!
Clamshell protector. This is a little guard that goes over your razor which is a  brilliant idea so that no dirt and dust end up on your blade, it's also a good idea for traveling as the blade is then protected.
Pre-shave scrub. This scrub is designed to exfoliate your skin which attacks ingrown hairs and promotes skin rejuvenation – amazzzzing!
Shave cream. This is such a cool product, basically it has a cationic formula which basically means that it makes your hairs stand up on end when you shave, meaning you get an even closer shave!
Post-shave balm. This is basically a moisturiser for after you've shaved and it smells deliciousssss.
Facial waxing strips. They've included a waxing guide which contain instructions of how to wax delicate areas of your face including the waxing strips too.
The Razor
This is the worlds first metal razor which has been designed specifically for women. They have 6 blades on each razor and they're coated with a soothing vitamin E strip which makes the blade glide over the skin much easier. The blade also has a built in bikini styling blade for trimming those intricate areas.
The Box
When this box arrived this morning, I instantly thought what a brilliant idea for Christmas presents, it comes in such a gorgeously presented box that it would be perfect as a gift to someone. Now I can't lie, other than having laser hair removal on two areas of my body, I also buy A LOT of disposable plastic razors to use for my legs. I'm going to be honest, I haven't even thought about the impact I have on the earth by buying and chucking away these handles but sometimes when a brand raises awareness of something you can't help but notice how much plastic waste I must produce each year solely by using disposable razors. Often in our family everyone's razors get mixed up and we end up throwing them away and replacing them but after receiving this box I have been educated on the impact that our disposable razors have on the planet and each disposable razor which is purchased can contribute to polluting the ocean, up to 10% of our plastic produce ends up the sea resulting in over one million sea animals losing their lives so although this is a small change, every little choice we make can help to save a sea animals life.
So does that mean this brand is cruelty free?
Yep you guessed it! Friction Free Shaving are 100% committed to ensuring all products are completely cruelty free. The blades are suitable for vegans and vegetarians and no animals are used in the testing of their products or packaging plus they also have a leaping bunny certification!
Which set is this?

The full gift set is the Lily Box which costs £27, the handle is teal coloured and you can get your handle engraved free of charge with this gift set, up to 12 characters!
Can I get it in time for Christmas?
Christmas delivery will be 3-5 working days – the gift box will be dispatched within 24 hours of purchasing. The Christmas delivery cut off will be the 19th December, customers will need to make sure that their orders are placed before midnight on the 18th December.
Final thoughts
So although this gift set was kindly gifted to me, all opinions in this post are completely honest and my own. I've even purchased a set as a Christmas present to someone in my family because after using the razor and creams in the shower I was honestly obsessed. My legs were slip and sliding all over my bed sheets from being so soft and the products smelt absolutely gorgeous (if you read my beauty reviews you'll know the scent is a make or break for me). These make not only the perfect gifts but they also help to save the environment and that is a huge selling point for me!
Where to buy?
You can buy yours here
Thanks so much to FFS for my gorgeous gift and thank you all for reading 🙂
LOVE DT XO